From typical teenagers to hip grandparents, Instagram influencers to Hollywood stars, selfies aren't going anywhere – and Chinese brand Vivo is capitalizing on that fact with its selfie smartphone, the V21 5G.
Don't get me wrong – if you haven't heard of Vivo, it's not some hot brand that just pumped out a no-credentials selfie phone. Vivo has been around for years and recently launched some great gimbal-stabilized camera phones and even teamed up with Zeiss to add some ooh-la-la heritage to its 2021 camera phone launches.
Back to the Vivo V21 5G, and three things give its selfie camera an edge: First, there's that 44MP high-res camera. Then there's optical image stabilization (OIS), which helps combat handshake. Finally, it's aided by a pair of flashing LED lights up front.
At £399, the V21 5G's plastic build and mid-range specs don't exactly sing when stacked alongside phones like the much cheaper Redmi Note 10 Pro and OnePlus Nord. But can a killer selfie camera save Vivo's latest midranger from mediocrity?
Design: a thin plastic sandwich
The Vivo V21 5G sports a glass display and a plastic back that sandwiches its plastic frame. At its price, you can start to find very fancy glass and metal phones, like the OPPO Reno 4 Pro, which instantly makes Vivo's phone look a bit dull.
Luckily, when it comes to plastic phones, the V21 5G looks good, and it's also super skinny at just 7.3mm – compared to the 7.7mm iPhone 13 and Samsung Galaxy S21 7. 9mm. It's available in Dusk Blue and Sunset Dazzle, and in some lights you'd easily mistake the back for frosted glass, which helps add a bit of class.
Buttons and ports are as predictable as possible – the power and volume buttons are on the right side; the bottom hosts the USB-C port, which is reserved by a single mono speaker and SIM tray, and there's no headphone jack.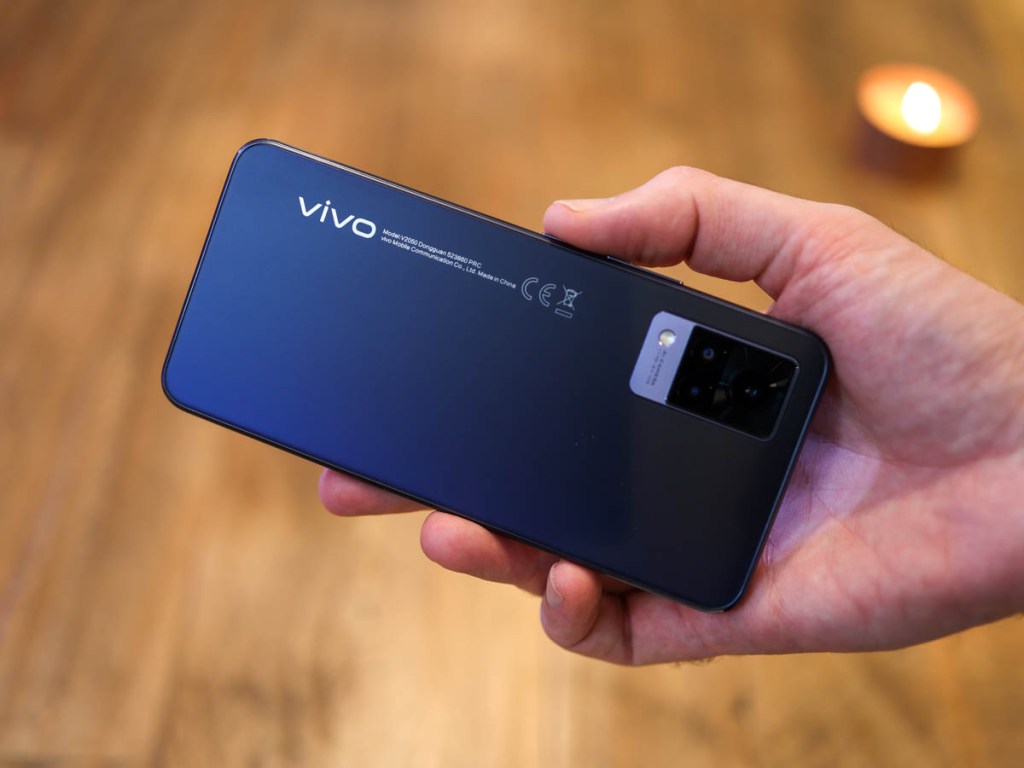 While the loudspeaker is a big disappointment – ​​it's far too easy to get covered when the phone is held sideways, the SIM tray is a highlight. Either two SIM cards or a SIM card and a microSD card are required, making it easy and inexpensive to supplement storage.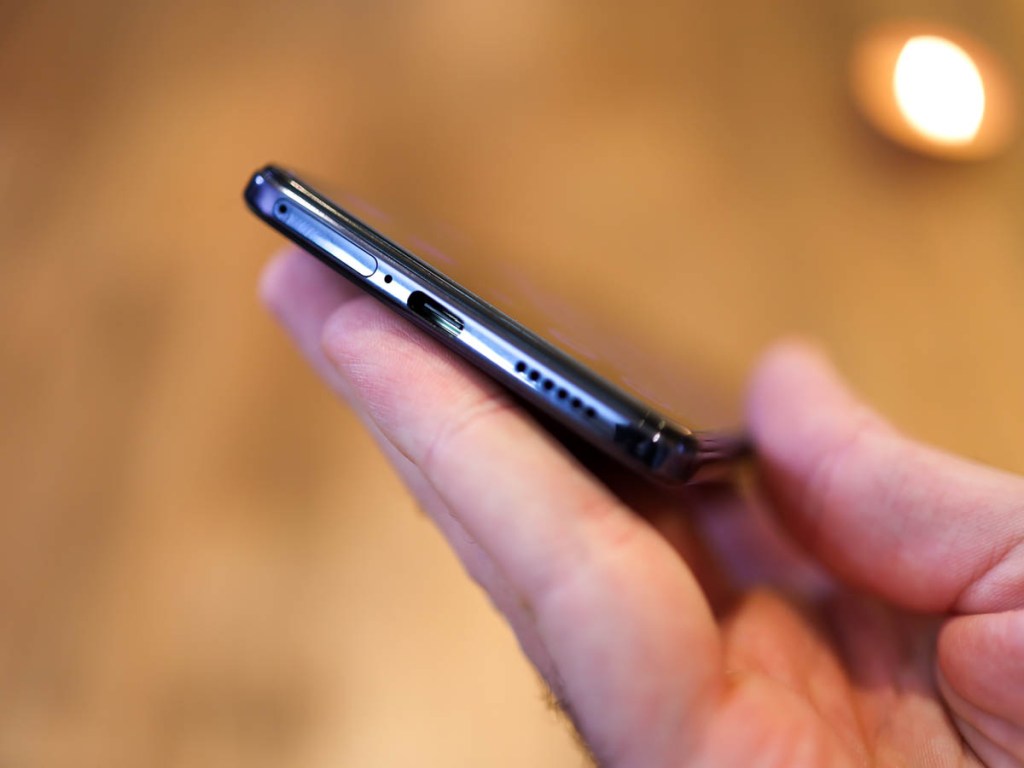 Although there is no water or dust resistance IP rating, the phone comes with a case in the box and a pre-installed screen protector, so there is some degree of key protection.
Screen: 2019 wants to regain its guts
There aren't many Android phones over £350 with notches now. Most mid-range and high-end Androids pack punch-hole selfie cameras. The fact that the Vivo V21 5G missed the memo makes its first impression a little more entry-level than its price suggests. We understand fancy selfie cameras take up more space – but the look of the display is a dated touch of the lag nonetheless.
Once we got past the notch, we couldn't help but be impressed with the V21 5G's display. Measuring 6.44 inches, its 90Hz AMOLED display is smooth and a comfortable size to swipe and type on.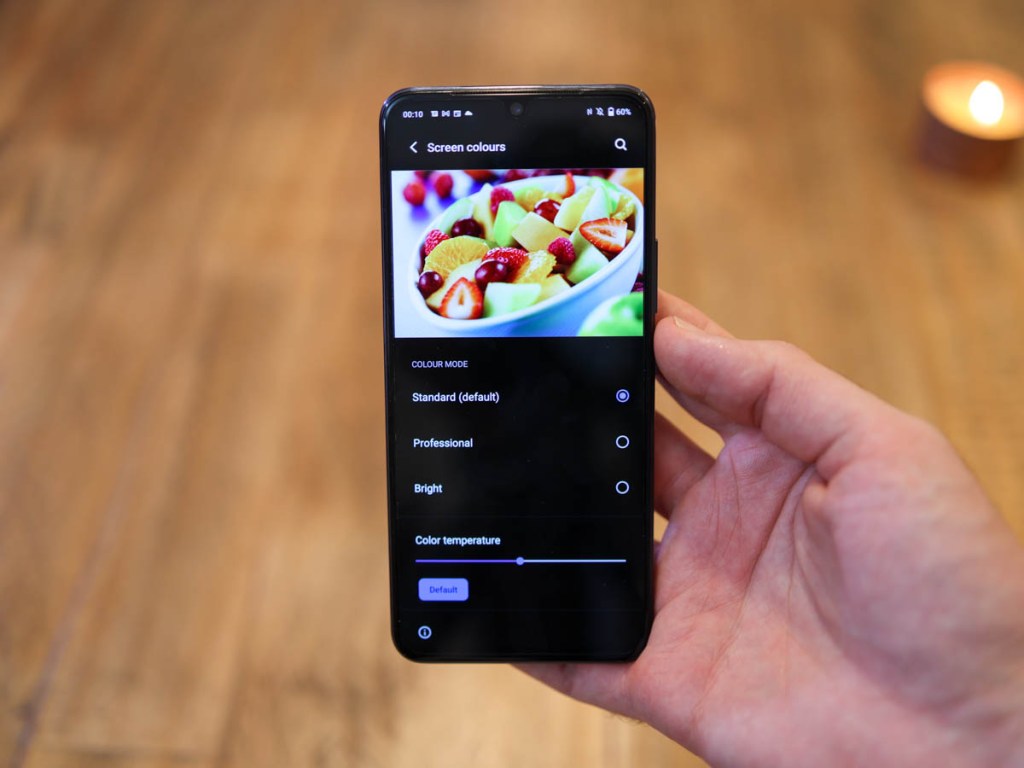 At 1080×2400 resolution, it's about as sharp as the OnePlus 9 and not far behind the iPhone 12 Pro. Its 90Hz refresh rate drags menus and the flow of web pages, which helps the whole experience feel a little snappier.
Add HDR10+ support to the mix, and the screen becomes a highlight, creating an impressive streaming experience on Vivo's selfie phone – provided you bypass the tiny speaker with headphones.
Cameras: Self-confident
The Vivo V21 5G's 44MP selfie camera boasts an f/2 wide-aperture lens, autofocus and OIS, meaning its selfies should be best-in-class. The camera also sports not one, but two front LEDs, so it can evenly flood a face with light and fill in unwanted shadows. There's a lot more than fancy hardware here.
The Vivo V21 5G's camera software includes no less than 10 live filters, numerous portrait lighting effects, and a disturbing amount of face adjustment options. Launch the selfie camera in portrait mode and you can change the size of your forehead, increase the distance between your eyes, or even reduce the space between your nose and upper lip.
Although we didn't like the idea of ​​having a full digital Face-Off experience, we were happy to see that the front camera can take a really impressive photo in regular auto mode or in portrait mode without filters or face adjustment. applied.
The fact that the selfie camera has autofocus means the eyes are usually in focus, which is important for a portrait. Detail is excellent in bright scenes too, and when the lights go out, a steady hand and fill flash help the V21 5G edge's selfies outpace the competition. The addition of 4K video is also a boon for selfie video fans and vloggers, with impressive results in all but dimly lit environments.
As for the main camera of the Vivo V21 5G, it is a triple camera system. There's a 64MP main camera with OIS, an 8MP ultra-wide camera, and a 2MP macro camera. The ultra-wide and wide cameras are mediocre at best and can only be used in bright scenes, however, the 64MP main camera shows promise. Its photo detail is ample, it shoots a pleasingly shallow depth of field when shooting macro shots with it, and colors have a natural yet warm balance.
Performance: meows while others roar
While you can get loads of gaming power for £399 – the OnePlus Nord 2 does a decent job with most games, while the mighty Poco F3 can handle just about anything on the market despite costing just £329 £, Vivo is bringing back the power for its V21 5G.
With a MediaTek Dimensity 800U 5G chipset paired with 8GB of RAM, while you will be able to play on it, advanced 3D games like Genshin Impact are played with low graphics quality.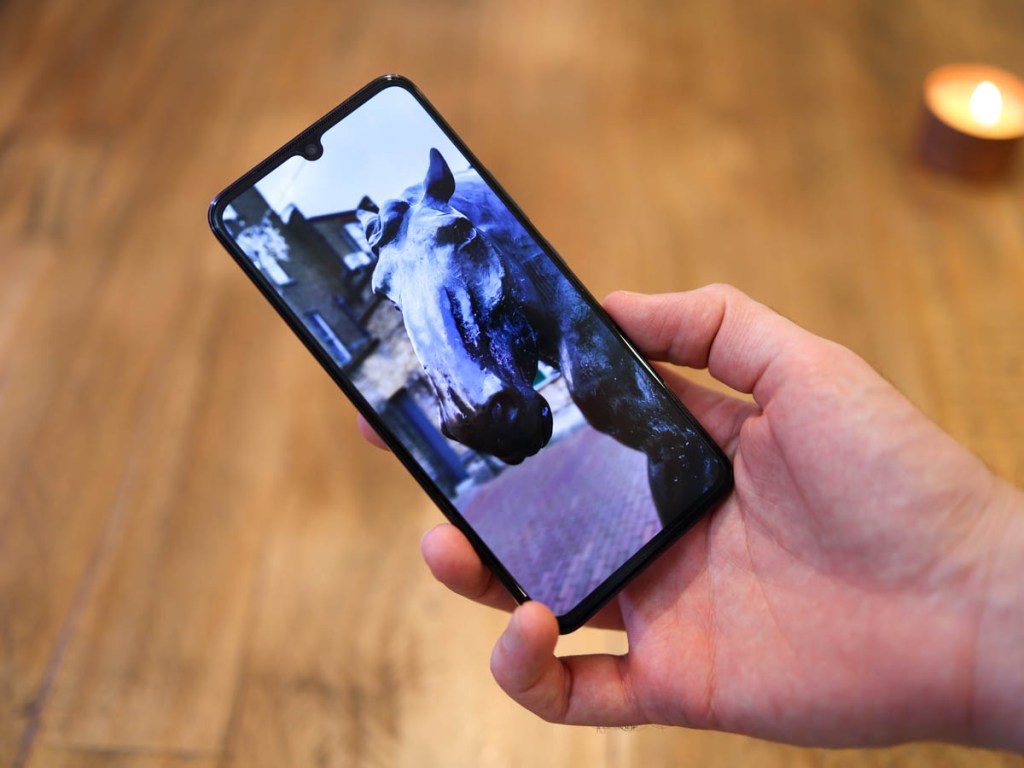 If you're not a gamer, however, you might not even notice the lack of grunt. Running Android 12 with Vivo's FunTouch OS 12, Vivo features the latest version of its mobile operating system from Google, and its interface is nice and light for western markets. Paired with a 90Hz display, and the whole experience is smooth, masking the relatively modest internals.
The phone also supports both an in-display fingerprint scanner and facial recognition, so you can access it quickly and relatively safely (face detection won't be as secure as the Apple Face ID). As for storage, a large 128GB combines with microSD card support, so you should have plenty of room for games, photos and videos.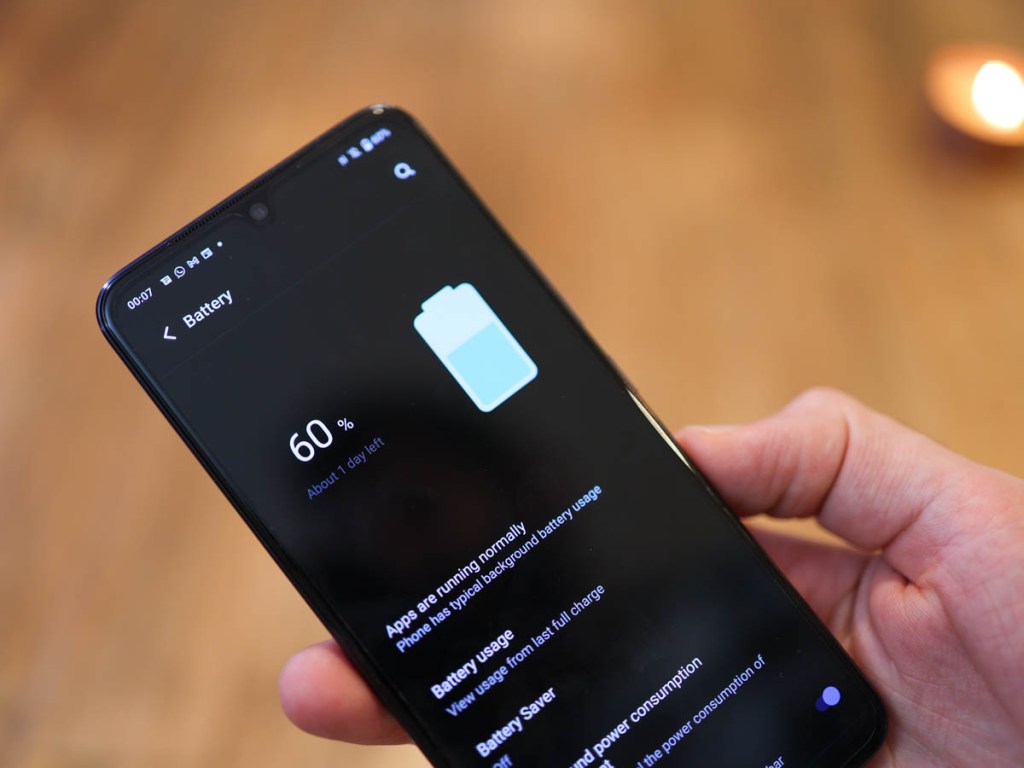 Battery: Small but fast charging
Most mid-range and entry-level phones these days, like the Poco M4 Pro and Redmi Note 10 Pro, boast sizable 5,000mAh batteries for comfortable battery life longer than a day. With just a 4,000mAh battery in its slim shell, the Vivo V21 5G can't stack up on the numbers front.
While its power saving is helped by its modest processor with modest power requirements, it's also hampered by the fact that it's a 5G smartphone – 5G is a major battery drain, in especially when logging in. So despite the fact that you'll probably have a full day out of the Vivo V21 5G most of the week, even with quite a bit of messaging and photo taking, if you're anything like us you might struggle with heavy 5G. days.
When you need a quick recharge, the phone powers up at 33W, which is pretty fast considering its price. Unlike iPhones and Galaxys, the Vivo V21 5G comes with a charger in the box, so you can charge it 50% in just 25 minutes.
Verdict
The Vivo V21 is a unique phone. For one thing, it checks a lot of boxes – the selfie camera is best-in-class, its screen and in-screen fingerprint scanner are excellent, and there are plenty of storage options. It also offers a decent day-to-day user experience.
Gamers will want more power – check out the Poco F3, while mainstream photographers will want a better rear camera setup – as found in the cheaper Redmi Note 10 Pro. Anyone who doesn't like selfies should also look elsewhere – the OnePlus Nord 2 is a great all-rounder at £369.
If your gallery is full of mediocre selfies that you wish were better, and you like the idea of ​​turning your face within an inch of being recognizable, or you just want a little more fill light when taking photos of you and your loved ones, then the Vivo V21 5G is a great fun phone that does a lot of good.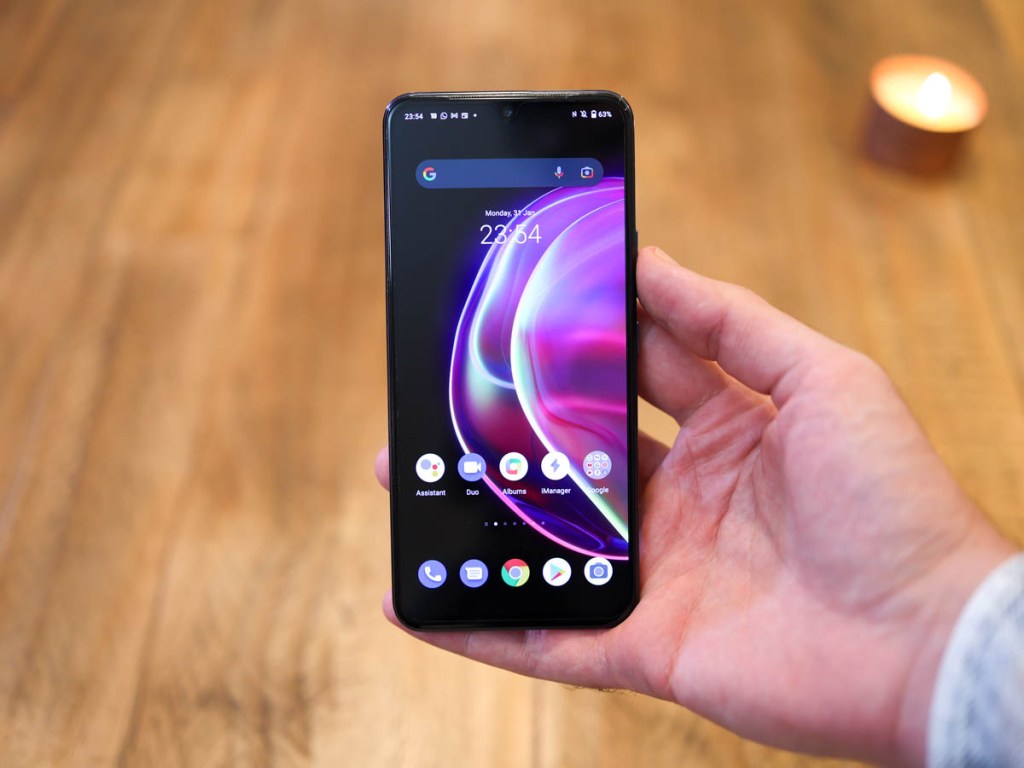 Technical specifications
| | |
| --- | --- |
| Screen | 6.44-inch 1080×2400 AMOLED, 90Hz refresh rate, 20:9 aspect ratio |
| Processor | MediaTek Dimension 800U 5G |
| Memory | 8 GB |
| Camera | 64MP, f/1.8 (OIS), 40MP, f/1.8 monochrome, macro 2MP, f/2.4, 8MP, ultra-wide, f/2.2 |
| Storage room | 128 GB + microSD card support |
| Software | Android 12 |
| Battery | 4000mAh, 33W fast charge |
| Dimensions | 159.7×73.9×7.3mm, 176g |